One of the many pleasures of women's hiking trip is that often the talk turns to books that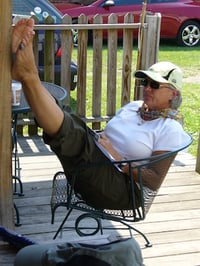 we're currently reading or that we particularly enjoyed. With any luck some enterprising soul volunteers to write the list down and then share it with everyone. And if the stars align, it actually happens.
We've decided that when that happens, we should share it with you. This list was compiled by the hikers on Wildflowers and Waterfalls: Exploring the Great Smokies.
Snow Flower and the Secret Fan and Peony in Love by Lisa See


Space Between Us by Thrity Umrigar


11/22/63 by Stephen King


Beyond the Beautiful Forevers by Katherine Boo


Cutting for Stone by Abraham Verghese


A Piece of Cake by Cupcake Brown (This is a memoir.)


This is the Story of a Happy Marriage by Ann Patchett


Five Days at Memorial Life: Death in a Storm-Ravaged Hospital by Sheri Fink


Boys in the Boat by Daniel Brown


Elephant Company by Vicki Croke
I love the variety of fiction and non-fiction and definitely see some new books to try! Thanks, hikers.