An Interview with Maria Abud, Owner of Patagonia Trails
Over the last two decades Adventures in Good Company has met and worked with dozens of groundbreaking women in the field of adventure travel. Maria Abud is one of those incredible people. When I spoke with her, she was sitting happily in her camper van that she calls home with a view of the mountains just outside her windshield. We talked about sustainability, women in business, and the joy of the mountains.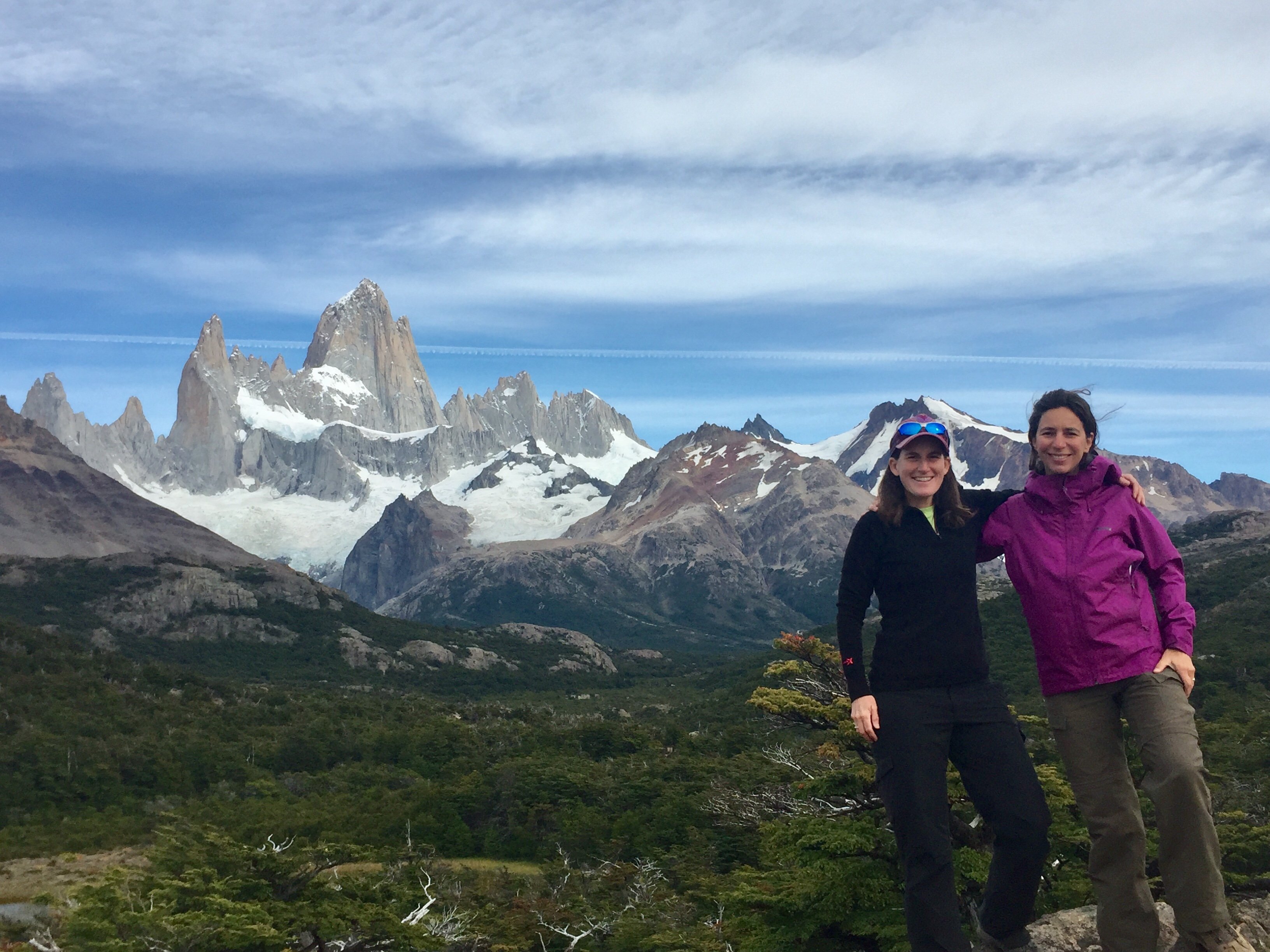 Maria with AGC guide Anne Brewer, in front of Mt. Fitz Roy in Fitz Roy Los Glaciares National Park
"Being a woman in Chile and running an adventure travel company is the very lowest [life circumstance] a woman could ask for. It's a man's world here, at least that's what I have encountered for so many years. But I think that the will of doing what I love is stronger."
Maria founded Patagonia Trails, a hiking, trekking, and horseback riding tour company, in 2011. The company was born out of her experiences guiding adventure travel around the world as well as a long-held love of nature and the outdoors.
"I have always been interested in the outdoors since I was very young, even if that meant just going to my parents farm and working with the horses. But I didn't spend very much time in the mountains until later. I was living in Buenos Aires after school and I got a job offer to start leading hiking and trekking and horse trips in Patagonia and I took it right away! Since then I have always been a freelance guide and tour leading around the world."
For almost 15 years Maria honed her guiding and personal service skills leading trips on behalf of many companies, on trekking expeditions throughout the Atlas Mountains of Morocco, Kilimanjaro, Peru the Inca Trail, Italy, Amalfi Coast, Cuba and the Andes of Chile and Argentina.
But her love of the Patagonia region continued to call to her and in 2011 she decided to combine her years of knowledge and experience of adventure travel with her passion for hiking, biking, and horseback riding in Patagonia. She founded her company and quickly learned that she would be wearing even more hats than she had expected… but that she was good at it.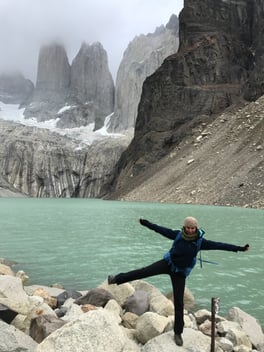 "I started off with day trips around Puerto Varas (Chile) and slowly it evolved into providing services for longer trips around Chile and Argentina. It's been hard but also fun beginning trying to diversify myself and start playing as an entrepreneur and boss while I'm still guiding and looking to clients' needs and surveys and information. Here we call it "un circo pobre." It's a circus with only one clown that does it all!"
Maria met Marian Marbury, the founder of AGC, in 2015 in Puerto Varas. They were both in town for the Adventure Travel Trade Association World Summit where Maria offered herself as a freelance guide because her new company couldn't yet afford the conference fees. While there, she met and guided Marian.
"I told her about my new company and that I was still a freelance guide and we got on well. I liked her style- I liked her honesty. I think that being able to work with Marian has really opened my idea of being a business woman in such a small business scape. It's still business! For me, to get myself confident enough to start believing in myself and doing this has been a rewarding, but tough, process."
When asked about how she feels about her career path all these years later, Maria was all smiles.
"I love it! I don't get tired of being in the mountains. I love peacefulness, I love the interaction of people and nature and making sure people get to experience what they want from the vacation they signed up for."
Here are some more of Maria's insights into the world of travel and sustainability.
How is your life different than what you imagined 20 years ago?
"I enjoy my life so much more than 20 years ago- it was still great, but age and experience and having been able to see the world and also having greater equality with men makes life so much better."
How has the world of adventure travel changed since you entered it?
"It's amazing how many more women are doing these treks! In the past we would find lots of men in small groups hiking at a very fast pace or elderly couples doing it as a challenge. Nowadays you see all sorts of young women, couples, different people enjoying the mountains. That has become so much more available for the world. Outdoor activities have become so much more accessible."
What do you wish more people knew about your region?
"I think Patagonia has a lot of hidden gems- there are places other than where I live that are super unspoiled and still have a feeling of the locals being there. It's not touristed like other places, I like those places most when there are no tourists around and it feels more authentic and you can interact with the locals better. The Puelo Valley in the Lake District and the Patagonia Park in the Aysén region are the most unspoiled identity of Patagonia."
Maria on the Grey Glacier Hike, part of the W Trek
How do you balance your desire to share Patagonia with other travelers and your desire to keep it wild and pristine?
"It's a contradiction of feelings- on one hand we as guides or operators are the ones seeking new destinations. And once those destinations reach popularity, there's so many problems. Then we have a huge responsibility to keep these places as sustainable and clean as possible. I think we (as guides and operators) are part of the problem, but we are also part of the solution straightaway. We are the ones who open new routes but we also have to do that in a sustainable way, trying to limit the number of people who visit those areas and also limit the amount of water being used."
"There is a huge amount of resources that go hand in hand with sustainability. I think that local communities have a huge role- like Puerto Natales in Patagonia- these communities live entirely out of tourism. They look after travelers so well.
What are you hopeful for in the world of tourism?
"We are stuck, but we aren't. There will come a time when the world becomes more peaceful in other places (that are not safe for tourists today), then those destinations are going to be open for tourism. Those are the destinations that are going to get a new era of sustainable tourism, better technology for remote areas, better money for locals. And that's how sustainable tourism will spread."
Learn more about Maria's journey and company here: https://www.patagoniatrails.cl/about-us