Five Highlights of Traveling as a Mother-Daughter Duo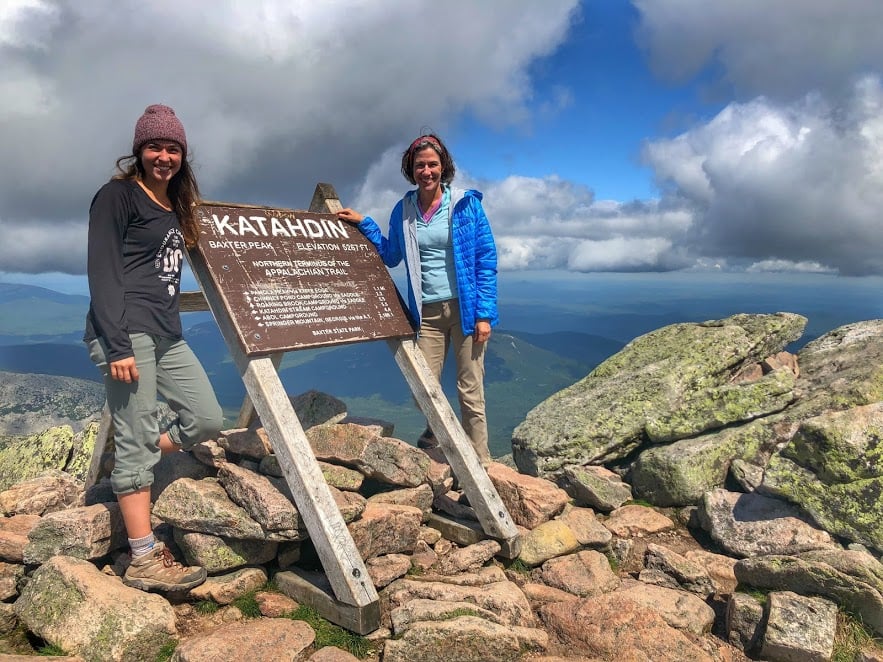 With Mother's Day right around the corner, we've been thinking about some of the mother/daughter duos who have traveled with us over the years.
Megan Nunn and her mom Lisa Dunham have traveled with AGC for years, most recently to Maine and Glacier National Park.
Colleen Bridger and her mom Norine MacArthur traveled with us in the very beginning of AGC and in the last few years started inviting the next generation, Sarah (Colleen's daughter). Several years back the trio climbed Mt. Kilimanjaro for Norine's 75th birthday.
Maggie Lomasney and her mom Laurie Lomasney doubled up for our Rafting and Hiking the Rogue River trip after Maggie graduated college.
We interviewed these women and asked about their experiences traveling as mother/daughter duos. Here's what they shared.
Five Highlights of Traveling as a Mother/Daughter Duo
1. You begin to see each other in a new light and take on new roles
It's not uncommon for us to view our mothers or daughters as though they are only those roles rather than full people. But getting out of the routine of daily life and seeing our female family members in new settings helps showcase who we are in a different light.
"I visited Maggie in London and Paris after she had studied abroad in college. It gave me a very different perspective on my daughter- she was so flexible and easy going, it was a different side of her than I had known. She had grown up while traveling!" said Laurie Lomasney.
But travel isn't just transformational for the daughter- it can help put a whole new lens on the relationship.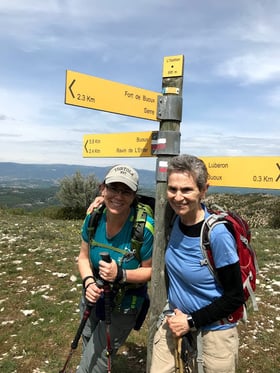 "My mom is one of the strongest, fiercest, most independent women you'll ever meet," said Colleen Bridger about her mother Norine MacArthur. "I do see this metamorphosis away from how I, the child, should be the center of the universe to one where perhaps I'm not the center and for a change maybe mom could be the center. It's been fun to experience that transition through the lens of adventure travel."
Colleen Bridger and Norine MacArthur
2. Neither of you has to be in charge
Face it- being a woman is hard! It's even harder when you're a mother who wants time to connect with her own mother… there just often isn't time.
"Both my kids were still young and at home and the center of my universe when mom and I started traveling, so it was very different to be somewhere and not have kids in tow. We were able to have conversations about the kids, but also not about the kids. That was a neat part of being just the two of us- we just had time!" said Colleen Bridger about her first adventure to the Boundary Waters with her mom.
Megan Nunn shared a similar sentiment. She and her mom are both self-proclaimed strivers and their jobs keep them very busy. As Megan said, when you travel with your mom "you have the space to just be together and not the pressure of one person being in charge of something. It's such a good break from the norm."
3. Shared friendships can develop
"When [your daughter] gets out in the world you don't see them in their adult life, at work or with their new friends. It's fun to see Megan interact with other grownups like a grownup. Plus we get to make new friends together!" said Lisa Dunham about her daughter Megan Nunn.
Lisa Dunham and Megan Nunn
Making new, shared friends is often the biproduct of these trips. That's part of why Colleen Bridger and her mother Norine MacArthur often choose to travel with a group like AGC.
"There's an assumption that you have to be each others' best friends in order for [travel] to work and I really don't think that's a requirement. It tickles me when people ask if I'm particularly close to my mom- NO! We just like to travel together, we're regular friends!" said Colleen.
4. You get some great stories to pass on to future generations!
"When [my grandmother, mother and I] climbed Kilimanjaro, we lost about half of our luggage on the trip. We had to split my clothes up so both my grandmother and my mother were wearing my underwear throughout the week," said Sarah Bridger. "What a story for down the road!"
Sarah's mother Colleen and grandmother Norine recounted similar stories, each punctuated by laughter and enthusiasm.
Whether it's something that makes you laugh or just the shared memories of being in a beautiful place, traveling makes you vulnerable to the kinds of experiences that are memory-makers.
5. The Inspiration Factor
Seeing the woman who raised you hike a steep trail or tell a well-loved joke certainly helps put a new perspective on who they are. It also gives you an idea of who they really are.
"I've never been impacted by anyone outside of my family in the way that seeing my grandma and mom do these things has impacted me," said Sarah Bridger. "It's never been a doubt in my mind that when I'm 75 I too will still be traveling and doing badass things."
---
At the end of the day, traveling as a mother/daughter duo is a meaningful way to spend time with and learn from the women in your family.
"I think we're more friends than mother and daughter on these trips. I know we're genetically related but we're far more like good friends than anything else," Norine MacArthur
Whether you're a mother to humans, fur-babies, your career or your artistic creations, we wish each and every one of you Happy Mother's Day.